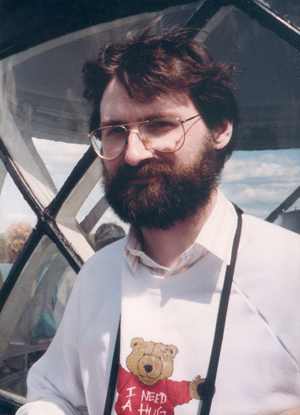 (Photo taken at a lighthouse on the Hudson river around 1988.
Click here for a more recent photo.)
My main activities are:

Job: I'm a retired professor in computer science from the Eindhoven University of Technology with this professional website

Music: This is currently my "full time" occupation. It consists of playing the accordion, arranging music for accordion solo, ensemble and orchestra, and maintenance, repair and tuning of accordions.
Until 2014 I was conductor of the accordion orchestra Avanti. In 2014 Avanti reached the "superieure categorie" (the highest category defined by Vlamo).
I play the piano, piano-accordion, button accordion (C-griff), accordina and bass accordion and am a member of Accordeana (in Helmond) and the Nederlands Symfonisch AccordeonOrkest. I also play in the accordion quintet ARTE, with enthusiastic accordion players from the Eindhoven region, and the accordion quintet Kwintissimo with enthusiastic accordion players from all over the Netherlands.
I arrange all types of music for acordion and accordion orchestra and sometimes also compose something myself. All my arrangements are freely available from this site.
I also tune (and repair) accordions. I simply cannot stand it when my (or someone else's) accordion is out of tune so I have learned to tune accordions (many thanks to Henk Vos).
Photography: Many public and private images are served by Zenfolio.
3D printing: When something breaks and it can be fixed with a plastic part I design it and print on my Makerbot or my FlashForge Creator Pro.
email: debra at tue.nl
skype: paul_debra
professional homepage: http://wwwis.win.tue.nl/~debra/
personal homepage: http://www.de-bra.nl/
If you happen to know my home phone number and try to call, be aware that we block incoming calls with a witheld number.